Next Event:
17th July 2004 1.00pm in the WMC Herbarium/Meeting Room at the Garden. This will be our AGM so reports will be presented and election of officers for the year ahead will be held. Nicole Scharenberg, one of our committee who attended the "Friends of Gardens" conference in Canberra will also give a presentation on that event. All friends and others interested are warmly invited to attend.
GUEST SPEAKER:
Our guest speaker for the May meeting will be Friend, Horst Weber from Munich who will present a talk entitled "What's that yellow bush over there?" This will be the first Friends meeting Host has been able to attend but he has been a keen supporter of our Garden for many years. Surprisingly, one of his passions is plants of the Flinders Ranges and he has previously spent time in the Arkaroola area following this interest, although he assures us he is just an interested amateur. In fact he was featured in an Australian Geographic article describing his flora investigations at Arkaroola some years ago. On finding out about the AALBG and our Friends group, Horst made contact and offered to develop a web site for the Garden. Horst is an Information Technology specialist, employed by the Goethe Institute, a German cultural organisation. He lived in Dublin, Ireland for many years, but now is based in Munich. He has put together The Australian Arid Lands Botanic Garden website of almost 200 pages with information provided mainly by John Zwar, and hosts the site so that it operates at no cost to either the Garden or the Friends group. This is an amazing use of technology and we are most appreciative of what Horst has done for us from the other side of the world. Each month approximately 3,000 people, internet users from all over the world, view at least parts of our web site and Horst will also talk about this and how it operates. Horst is an excellent photographer and I am sure he will show some stunning pictures as well. He has also produced a series of Fact Sheets in both English and German on several of the species we have growing in the Garden. Horst will be in Australia for work in July, but has made time to attend our meeting and to revisit friends and places in the Flinders Ranges. If you have internet access visit our website (address at top of News letter). If you do not have internet access, take the newsletter to your local library and staff may be able to help you access our web site.
GARDEN LOCATION:
The AALBG's main entrance is off the Stuart Highway (Woomera Road) approx 1.5km north of the junction with the Eyre Highway at Port Augusta West. Follow the entrance road into the garden to the car park (about 1.2km). Besides the Bluebush Café, the Visitor Reception Building houses a fine interpretive display, a large range of Australian made gift items and books in the shop, and toilet facilities as well as the adjoining WMC Herbarium Meeting Room. Why not arrive early, visit the Garden and enjoy lunch in the Bluebush Café? (Café, gift, souvenir and book purchases attract 10% discount for Friends – show membership card). Stay & talk with other Friends over afternoon tea following the meeting.
COMMITTEE MEETING:
Committee members, please note there will be a committee meeting held on Saturday 17th July at 10.00am in the WMC Herbarium/Meeting Room at the AALBG, followed by lunch in the Bluebush Café at 12 noon, before the meeting at 1.00pm.

LAST MEETING:
'When the Garden Goes Feral' was the title of a presentation given by Ms Lorraine Edmunds on Saturday 22 May at the WMC Herbarium Room at the Australian Arid Lands Botanic Garden. Ms Edmunds showed slides and video and gave a talk on the problem of the Prickly Pear (Opuntia stricta) and the Wheel Cactus (Opuntia robusta) in the Flinders Ranges to the Friends of the AALBG. Lorraine is a part time co-ordinator working with the Blinman community to fight the growing menace of the cactus by raising awareness of the problem, train people in the use of sprays, and assist in the control the pear, and prepare submissions for funding to help in a situation that is becoming desperate and where governments are disinterested. It is thought that the cactus was first introduced into NSW in early days of settlement to host the Cochineal insect that in turn was used for dye to make the red coats worn by soldiers. The Opuntia is a native of Mexico where it is grown for food. The fruit is succulent and used in jams and other foods. Even in Australia it is deemed a useful food. The creatures of the wild have also discovered the pear as a great source of food and have played a large part of its virulent spread in the Flinders. In Queensland in the 1920's the pear infested 25 million hectares of land rendering it useless. The moth Cactoblastis cactorum was imported from Mexico to control the pear. Within 6 years the land had been reclaimed as farms. It is feared that if there is no check on the plant the Flinders will suffer the same fate as QLD and NSW. While Cactoblastis was effective in the wetter more humid climate of QLD it is not effective in the hot dry climate of the Flinders. The Cochineal insect also helps in biological control but not to the degree of Cactoblastis. For effective control and eradication, expensive and highly toxic sprays must be used such as Grazon and Garlon. The drawback in dealing with the pear is inaccessible terrain. In some cases helicopters have been used to drop spray and equipment on hilltops where there are concentrated infestations. Usage of helicopters is again very expensive. Tourists to the area have noticed the spread of the pear. They enquire if it is a native of the area and are concerned that there is hardly any interest in the fact that the plant in being allowed to spread. Ms Edmunds believes that, 'Unless halted now the cactus will change the Flinders Ranges as we know them, forever'. Gwen Leane
GARDEN GATES AT MAIN ENTRANCE:
Several years ago the Friends offered to fund appropriately designed gates for the Garden's main entrance, but the offer was rejected by Port Augusta Council. The matter was raised again by the Friends last year and this time council decided to proceed. The gates were to be installed in March. There is still no news on when the gates will be installed but hopefully it will be soon. The metal gates will feature the Garden's Western Myall emblem. The project is likely to cost $6,000 and will be funded by the Friends.
THE EREMOPHILA FESTIVAL 2004: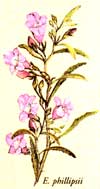 Eremophila philipsii
© Rosemary Pedlar
This popular biennial event will be held at the Garden on Saturday 4th September, from 10.00am – 4.00pm. Mark this date in your diary now. A small team is planning the festival and if you have any suggestions or ideas, or can offer assistance with planning and on the day they would be pleased to hear from you. Contact Chris Nayda , Co-ordinator on 8642 4684. The Eremophila Festival seeks to showcase the Garden at its best. Entry is by gold coin donation. The event is also being promoted in the Open Garden Scheme section of the ABC Radio web site. The organising group has done a great deal of work and the event will be widely publicised on regional TV and other media. Many behind the scenes items such as St John first aid volunteers, training for other volunteers, rubbish collection, car park attendants and transport are being finalised. A Skillshare bus will take patrons from The Fountain Gallery to the Garden and back. Friend Nicole Scharenberg has offered her bus for tours of the Garden. The Bluebush Café will be providing extra marquee seating and a hamburger, sausage, drinks and ice cream stall will be run by the Naval Cadets. They will also conduct a survey of visitors on the day, collect entry donations and issue raffle tickets. Musical entertainment will be provided on the day, along with an interesting array of arid zone plant nursery stalls, produce from the region, displays on birds, wildlife and national parks. An "expert panel" will be available to provide advice and answer questions on arid zone native plants. Childrens' activities will be provided and there will be speakers and other displays on the theme of arid zone plants as well. A promotional brochure has been produced – contact Chris if you would like one or more to display and publicise the event. We have excellent sponsors and some great prizes for a fund raising raffle (drawn at the Festival). These include: Two nights for 2 people at Spear Creek Tourism and Training Centre, including provision for cooked breakfast and a guided tour; Travel with Nicole of Spinifex Safaris to the Flinders Ranges with meals and national park fees included; A nights accommodation for two at Wirrabara Heritage Bed and Breakfast; and an evening cruise for two people to the head of Spencer Gulf with Augusta Water Cruises, including supper. Other sponsors include SA Housing Trust, NRG Flinders and Augusta Power Station, Vipa Enterprises, Home Hardware Port Augusta, Plants Plus Augusta Garden Centre, and Skillshare Buses Port Augusta. A tear off slip for raffle tickets is attached below for this significant fundraiser. Please note the closing date.
EREMOPHILA FESTIVAL FUND RAISING RAFFLE – ORDER FORM

Member's
name................................Telephone Number................…..
Member's
address.................................................................
........................................................................
I am willing to sell.........book/s of 10 tickets at $1 each.
Alternatively, I enclose an amount of $.......... for tickets at $1 each.
Closing Date for orders by mail is Friday 20 August 2004. Return of money,
raffle books and unsold tickets requested by 1st September 2004.
Please make Cheques and Money Orders payable to Friends of the Australian
Arid Lands Botanic Garden Inc. and send to "Raffle Tickets", PO Box 2040,
Port Augusta SA 5700
GARDEN REPORT 26.4.04 to 18.6.04 by Bernie Haase
It's been very busy here trying to complete garden developments by the end of June, to ensure that we receive the full amount of the tourism grant funding allocated to improving the AALBG. A paving and concrete path through the car park, leading visitors to the main entrance path has been completed. Some plants were removed for this but others have been replanted. The car park bitumen has also been resurfaced. Jimmy and our Skillshare workers have repaved the short path through one of the car park garden beds. Three full time casual workers have been employed till the end of June and have assisted the irrigation installer from the Council Parks and Gardens Section to lay sub surface irrigation through the Eremophila Gardens new perimeter plantings. This area has been mulched and planted, with the majority of plants coming from the Friends' Nursery. The car park extension garden bed has also had sub surface irrigation installed and has been mulched, and will be planted soon.
A new path has been cleared and rolled through the sandhills up to the Boardwalk Lookout. A fibre matting will be laid to provide a firm base for this new path which will be connected to the rest of the AALBG track network. A sealed mini bus network is about to be constructed commencing at the car park leading past the Eremophila Garden, the Visitor Reception Building, through the mixed plantings, around the regional plantings, returning to the car park. The short walk track which is the route used by our tour guides will also be sealed providing easy wheelchair access to a significant section of the Garden. The new road to Flinders Redcliff and car park has been completed and recently sealed. The realigned boundary fence has been built, and vandals had a great time destroying parts of it before it was even completed. They also damaged parts of some other fencing and filled one of the bird hides with gravel.
Black Bluebush has been cleared from the edges of garden beds along the short walk and new bus route and the main track leading from the courtyard directly to the boardwalk. This reduces competition and allows showy smaller plants near the edges of paths to grow to their full potential. Extra irrigation has been added and mulching almost completed. The Black Bluebush has also been cleared from the Great Victoria Desert and Central Highlands regional garden beds. A row of poorly performing Pearl Bluebush has been removed from the courtyard plantings and replaced with Eremophila scoparia which should grow better than the Bluebush but still provide a blue foliaged band of plants in this location.
Our nursery is completely full of plants with the overflow housed in the Friends' Nursery. These plants were raised from seed collected on field trips last year and will be planted in the developing regional plantings. The rest are from plant nurseries from throughout South Australia and from Alice Springs. It is amazing how few arid zone native plants are raised in commercial nurseries, but I have managed to get a good selection for bulk plantings in newly cleared areas. Planting is the next big job along with recording, then engraving and installing plant name labels.
The original Eremophila Garden plantings are being tidied up and bare sections replanted. The storm water outlet near the edge of the Eremophila Garden has had a layer of creek stone added and will also be planted. The permapine marker posts throughout the Garden which indicate locations where irrigation pipes pass under paths have been replaced with old myall and mulga fence posts from Wilkatana Station north of Port Augusta. These look more natural and the different walks in the Garden will also be indicated on these posts.
Signs throughout the Garden and along roads are being upgraded, standardised and additional signage also installed. Improvements at the main entrance to the Garden will soon begin. I recently attended an irrigation expo in Adelaide to inspect recent irrigation developments and materials. There were several types of drippers which may be ant proof which I am trialling. Top quality poly pipe and stainless steel ratchet type hose clamps were also on show. We have not had good results with cheaper poly pipe and plastic fittings which do not last long. There were also many types of irrigation timers, some of which we may be using in the future. On a different note a sculpture exhibition in the garden is being planned and will open on the day of the Eremophila Festival (Saturday 4th September) and will continue for several weeks after.
Ann Turner from Arkaroola, who helped with our seed collecting trip last year has collected and sent us additional species which were not available when we visited. She has invited some Friends to help plant up the Arkaroola Village area next year some time. Accommodation will be provided, and more details will be available in the future. By the time of our next meeting there will be many changes and improvements in the Garden, for everyone to see and enjoy. B Haase

BIRD OBSERVERS CLUB OF AUSTRALIA, PORT AUGUSTA GROUP - Programme 2004
Friends are welcome to participate in these activities.

Saturday 24th July 2004
Dutchman Stern camp out – meet at Quorn Swimming Pool Sat 1.00pm
Sunday 25th July 2004
(subject to booking confirmation)
Sunday 15th August 2004
Wirrabara Forest – Meet at Wirrabara Hotel – 9.30am
Sunday 12th September 2004
Bernie's block – Meet at Mambray Creek Roadhouse – 8.00am
Sunday 17th October 2004
Port Patterson – Meet at weighbridge Highway One – 8.00am
Sunday14th November 2004
Whyalla Conservation Park – meet at turnoff to park – 7.30am
Sunday 12th December 2004
AALBG – meet in carpark – 7.30am
Sunday 14th December 2003
AALBG – meet at car park, 7.30am
(Christmas lunch after walk at Reichelt's residence, 74 Dartmouth Street, Port Augusta).
For further information contact Peter on telephone (08) 8642 5723 or Brian on (08) 8642 3314
ALICE SPRINGS PARK RENAMED:
Friend Clarrie Smith of Alice Springs & Curator of The Olive Pink Botanic Garden there was recently notified that a park in Alice Springs has been officially renamed the Francis Smith Memorial Park in commemoration of his late wife who had been very involved in the Olive Pink Botanic Garden, other parks and in other community issues for more than 30 years. Clarrie and Francis had visited our Garden and have willingly provided advice and support over many years. This is a fitting tribute in commemoration of Francis, a willing volunteer.
DONATION: The Port Augusta Lions Club recently gave a $100 donation for trees at the AALBG.
SCULPTURE SHOW:
Opening on the day of the Eremophila Festival a sculpture exhibition will run for a month at the Garden, organised by The Fountain Gallery in Port Augusta. Concurrently a sister show which will highlight other works by the same artists, including their concept and development work at the Gallery in Flinders Terrace, Port Augusta. The Gallery is calling for volunteers to hand out surveys, talk with visitors about the exhibition and to document visitor numbers. If interested in assisting please contact Samantha Yates, Arts Officer on (08) 8642 4557 for details of training workshops and the event.
REMINDER: VOLUNTEER INSURANCE COVERAGE:
All volunteers working at the Garden (Guides, propagators and others) are covered by Council's insurance coverage, but each MUST sign a statement which indicates the work they are undertaking on behalf of the Garden management (council) within the AALBG site. Each volunteer, please check with Bruce Leane, Bernie or with Rieck Shine to ensure you have signed the appropriate paperwork, to provide coverage in the event of accident or injury.
OCTOBER 9th MEETING:
There will be no September meeting as our efforts will go into the Eremophila Festival. The October 9th meeting will be an opportunity to meet and hear Phillip Moore, botanist and author from NSW who has written the "Travellers Guide to Plants of The Outback" which is to be published next year after a long delay. Readers may have heard him talking on ABC Radio's "Australia All Over" last year.
MEMBERSHIP:
The committee has decided to revert to the system of making Friends membership subscription due at the beginning of the financial year (July 1st) rather than the present system which has caused confusion and has been difficult to administer. This will bring us into line with the practices of most clubs. If you have paid membership in 2003, you will not be expected to pay again until July 2004. Please direct queries to Secretary Geraldine Davis Ph: 8648 6399 ah.
NEW MEMBERS:
A special welcome is extended to all recently joined members of the Friends. We look forward to your participation in our activities if distance allows!
New members: Clearly print name and address on membership application form. Some recent forms have not been legible. Please indicate if you would prefer to receive your News Release by email, as we hope to be able to do this before too long, but will of course post it in the normal way for those without email.
MEMBERSHIP CARDS:
Show your membership card in the AALBG shop for 10% discount on all purchases - including meals. Contact the Secretary if you are a financial member and do not have a card.
SHOW AND TELL: Those attending Friends meetings are invited to bring unusual or interesting plant specimens and other relevant items of interest to meetings for a show and tell segment, which we expect will be educational for us all!
Issued 30.06.2004 by John Zwar President, The Friends of the Australian And Lands Botanic Garden, Port Augusta Inc., P0 Box 2040 Port Augusta SA 5700. Ph (08) 8671 0324 ah, (08,) 8671 8558w,