NEXT EVENT:- SATURDAY SEPTEMBER 4TH, from 10AM - 4PM
THE EREMOPHILA FESTIVAL 2004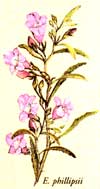 Eremophila philipsii
© Rosemary Pedlar

WHERE: At the Australian Arid Lands Botanic Garden, Stuart Highway, Port Augusta West. A free bus service will pick up at the Fountain Gallery carpark, Flinders Terrace, Port Augusta, every half hour commencing at 9.30am.

ENJOY: Native Plant Stalls, Gift Stalls, Childrens' Story Telling by Frozzled, Garden Panel to Answer Your Questions about Native Plants and their use in your garden. Miniature Quilt Display entitled Native Flora, Bush Tucker Stall - taste and learn, Quandong pie, barbecue, drinks, icecream. Fabulous food in the popular Blue-bush Café.

SPRING BLOOMS & SCULPTURES: Walk through the Botanic Garden and enjoy it at it`s best. See the arid exhibition of sculptures through-out the garden. Entry: Gold coin donation.

SPONSORS: With thanks to our sponsors - SA Housing Trust, NRG Flinders, Spinifex Safaris, Spear Creek Tourism & Training Centre, Wirrabara Heritage Bed & Breakfast, Augusta Water Cruises, Vipa Enterprises, Home Hardware, Augusta Garden Centre, Mitre Ten, Skillshare Buses, Port Augusta Council.
Picture watercolour by Friend Rosemary Pedler



NEXT MEETING: Saturday 9th October 2004 1.00pm in the WMC Herbarium/Meeting Room at the Garden. Nicole Scharenberg, one of our committee who attended the "Friends of Gardens" conference in Canberra will give a short presentation on that event. All friends and others interested are warmly invited.

GUEST SPEAKER:
Philip Moore, an arid lands plant enthusiast and author from Sydney will be guest speaker at our October Meeting. Prior to taking early retirement 10 years ago, Philip worked as a scientist in the pharmaceutical, food and nuclear industries. He has a PhD in nuclear technology and was engaged in R&D in radiation chemistry and nuclear medicine at Lucas Heights, south of Sydney for most of his career. Between 1987 and 1990 he was Counsellor (Nuclear) in the Australian High Commission in London during which time he visited many of the nuclear establishments in Europe. On his return to Australia, he travelled extensively in South East Asia on behalf of the IAEA. While this work paid the bills, his interest in botany kept him sane. His first book, Native Plants of the Sydney District, co-authored with Alan Fairly and published in 1989, is now the standard popular reference for the region.

Retirement allowed Philip to extend his botanical interests to most of Australia. He has now made 10 journeys to the inland totalling some 110,000 kilometres, the most recent only a few weeks ago. This came about owing to an unexpected delay (actually a major stuffup) in the publication of his new book A Travellers Guide to the Plants of Inland Australia which caused him to postpone promotional arrangements for the book but allowed him to join a group called Desert Discoverers in the Great Sandy Desert east of Broome, WA. Philip's talk will tell a little about the forthcoming book and its preparation and will describe with colour slides his recent adventures in going to and from the north west.
Philip was heard on an ABC Radio "Australia all Over" interview about 18 months ago by Friend Ron Zwar of Adelaide who subsequently phoned him and mentioned our Friends Group and asked whether he may be available to be a guest speaker for the Friends. We followed this up and are very pleased that we will hear about his passion for outback plants in October. Don't miss this meeting!

GARDEN LOCATION The AALBG's main entrance is off the Stuart Highway (Woomera Road) approx 1.5km north of the junction with the Eyre Highway at Port Augusta West. Follow the entrance road into the garden to the car park (about 1.2km). Besides the Bluebush Café, the Visitor Reception Building houses a fine interpretive display, a large range of Australian made gift items and books in the shop, and toilet facilities as well as the adjoining WMC Herbarium Meeting Room. Why not arrive early, visit the Garden and enjoy lunch in the Bluebush Café? (Café, gift, souvenir and book purchases attract 10% discount for Friends – show membership card). Stay & talk with other Friends over afternoon tea following the meeting.

COMMITTEE MEETING:
Committee members, please note there will be a committee meeting held on Saturday 9th October at 10.00am in the WMC Herbarium/Meeting Room at the AALBG, followed by lunch in the Bluebush Café at 12 noon, before the meeting at 1.00pm.

LAST MEETING:
This was held on Sat 17th July and was our AGM. Reports were presented and election of officers for the year ahead was held.

PRESIDENT'S REPORT to AGM 17th July 2004
It is now twenty years since the formation of our Friends group. It was largely by our efforts, lobbying and persistence in the 1980s that development work on the Garden commenced in earnest in the early 1990s. It is remarkable to see how the Garden has developed in that time despite a very moderate budget and only two permanent staff. The Friends role as volunteers and in funding some developments has been very important and has allowed things to be done which otherwise could not have been afforded. Out membership remains around the 500 mark.

We have had some very interesting guest speakers at meetings in the last year. In August, the AGM, Nick Bailey spoke about his role as a compliance officer for the National Parks and Wildlife Service. In October, Roger Grund gave a fascinating presentation on butterflies in the Port Augusta area, and at our last meeting for 2003, Dr Phil Ainsley, Germplasm Research Co-ordinator at the Botanic Gardens of Adelaide Seed Conservation Centre who spoke about his role and the Millenium Seed Bank. In March, Bernie Haase gave a presentation on field trips, collecting seed and plants in the Northern Flinders Ranges and in the Anangu Pitjantjajara Lands. At the May meeting we heard an heartfelt presentation from Loraine Edmunds on the feral plant problems in the Flinders Ranges. Our Christmas Dinner was again a very enjoyable event, for those able to attend.
In March, Council hosted a reception at the Garden in honour of Noel and Vivienne Lothian, to thank them for generous book donations, which form the nucleus of a library for our Garden. Many Friends attended and the guests enjoyed the visit and the opportunity to inspect progress at the Garden. At a reception at the Garden, attended by SA Governor Marjorie Jackson, one of our committee, Shirley Mundy was presented with a well deserved Volunteer Award.

During the Year some Friends accompanied by AALBG staff participated in plant and seed collecting expeditions to the North Flinders Ranges and to the Anangau Pitjantjatjara Lands, which were very successful events co-ordinated by Senior Gardener Bernie Haase. Our Friends volunteer propagaters with Bruce Leane as co-ordinator have produced many thousands of plants both for the Garden and for sale which has increased our funds. Our Volunteer Tour Guides have done a great job too and their efforts have also raised money which will be spent in the Garden. This year for the first time we sent two delegates to the Friends of Botanic Gardens conference in Canberra, a worthwhile exercise. They returned with interesting suggestions and ideas.

In August last year, some Friends participated in a ceremony where plants of the rare Spiney Daisy were handed over and planted in the Rare Plants section of the Garden.
Sadly our Vice President, Morry Vile died on 14th November 2003 following declining health. Many Friends attended his funeral service. Morry was a great worker for the Friends and willingly took on many tasks. His cheery nature and funny stories are missed by all who knew him.

Our next big event is The Eremophila Festival on September 4th 2004, planning for which is well advanced. It promises to be the best yet. If you are able to assist, please offer your services – Chris Nayda will be delighted to hear from you.

Another very positive development is the construction of impressive entrance gates for the main entrance to the Garden, after being sought by the Friends for several years. They will be paid for by the Friends and installation should be complete soon.

In closing I thank all Committee Members for the work they have done and for their support through the year. I wish the new committee every success for the next year.
My thanks too to all members for their ongoing support, and best wishes to each of you.
John Zwar, President, FAALBG PA Inc 17 July 2004.

The guest speaker for the July meeting was Friend, Horst Weber from Munich who presented a talk entitled "What's that yellow bush over there?" This was the first Friends meeting Host has been able to attend but he has been a keen supporter of our Garden for many years. Surprisingly, one of his passions is plants of the Flinders Ranges and he has previously spent time in the Arkaroola area following this interest, although he assures us he is just an interested amateur. In fact he was featured in an Australian Geographic article describing his flora investigations at Arkaroola some years ago. On finding out about the AALBG and our Friends group, Horst made contact and offered to develop a web site for the Garden. Horst is an Information Technology specialist, employed by the Goethe Institute, a German cultural organisation. He lived in Dublin, Ireland for many years, but now is based in Munich, Germany. He has put together The Australian Arid Lands Botanic Garden website of almost 200 pages with information provided mainly by John Zwar, and hosts the site so that it operates at no cost to either the Garden or the Friends group. This is an amazing use of technology and we are most appreciative of what Horst has done for us from the other side of the world. Each month between 3,000 and 10,000 people, internet users from all over the world, view at least parts of our web site and Horst spoke about this and how the website operates. Horst is an excellent photographer and showed some stunning pictures as well. He has also produced a series of Fact Sheets in both English and German on several of the species we have growing in the Garden. Horst was in Australia for work in July, but made time to attend our meeting and to revisit friends and places in the Flinders Ranges. If you have internet access, visit our website www.australian-aridlands-botanic-garden.org If you do not have internet access, you may like to take the newsletter to your local library and staff may be able to help you access our web site. It was most enjoyable to meet Horst at last after having corresponded by e-mail for some years. It was interesting to hear and see his perspective on our plants and region too – it made us realise what we so often take for granted.

GARDEN GATES AT MAIN ENTRANCE:
Several years ago the Friends offered to fund appropriately designed gates for the Garden's main entrance, but the offer was rejected by Port Augusta Council. The matter was raised again by the Friends last year and this time council decided to proceed. The gates have now been installed. The metal gates feature the Garden's Western Myall emblem. The project will be funded by the Friends.
FRIENDS COMMITTEE: The following people were elected to the committee at the AGM on 17th July 2004.

President: John Zwar; Vice President: Bruce Leane; Secretary Treasurer: Geraldine Davis; Assistant Secretary Treasurer: Shirley Mundy; Dennis Dobson; Bernie Haase; Ronda Hall; Gwen Leane; Chris Nayda; Fay Poole; Brian Powell; Nicole Scharenberg.

GARDEN REPORT 21.6.2004 to 12.8.04 by Bernie Haase
Hello Friends. The completion date for improvements to the Garden has been extended to August 17th when Government ministers will be inspecting the new developments. The three extra workers employed to help with development work have had an additional month of employment.

The new boardwalk sandhill path has had a fibre matting base laid to prevent erosion. The tracks from the courtyard direct to the boardwalk path, the mini bus route, the short walk track, a short section of path to improve wheelchair access and a path through the Eremophila Garden (which is part of the Gardens short walk) have all been sealed. Some track corners are being cleared and hard surfaced to improve turning areas and places for new seats have also been prepared.

Mulching of cleared areas was delayed for a while because the chipper seized up and needed repairs. Planting has been undertaken along the entrance path, short walk and car park extension. Frost this winter has unfortunately damaged some plantings. Now that cold weather is easing and most new development is complete more planting is happening. The main entrance improvements commenced with new gate posts and the new gates installed, funded by the Friends. Railway iron barriers to prevent vehicles from driving through the garden beds are in place. New garden beds have been ripped to break up compacted soil, and existing plants near the main entrance trimmed. More work will be done in this area soon.

Weeds are flourishing throughout the Garden following winter rains and are gradually being removed by hand or sprayed where possible. Our local common wildflower, the "Brilliant Sunray" is putting on a good show this year as a result of winter rainfall. The Flinders Red Cliff Lookout car park has been completed and irrigation installed in nearby garden areas. Robert Brown, Botanist on the voyage of Matthew Flinders in 1802, collected plants during an expedition from Spencer Gulf to the summit of Mount Brown. These species will be propagated and planted in garden beds at Flinders Red Cliff. A walking path has been established along the top of the Cliff and interpretive signs will soon be installed. More old mulga and myall fence posts and some myall tree logs have been collected from Wilkatana Station thanks to Andrew Smart. They will be used throughout the Gardens and track system.


Plant labels are being engraved and installed as planting continues. Skillshare workers have assisted with engraving and also with Garden developments two days a week. Vandals have attacked a new fence closing off the old road to Flinders Red Cliff. They have also smashed some car park railings at the boardwalk and worst of all, set fire to and destroyed Council's new roller when it was at Flinders Red Cliff. Rocks will be piled up in one or two heaps in the section of the Garden devoted to plants from the highlands of north west South Australia, to provide heat sinks which will hopefully enable frost tender plants to survive.

The Friends internet provider, Horst Weber stayed on after our last meeting and collected more information for the web site, as well as getting material to develop a "walk through the Eremophila Garden" for the web site. He then went on to Arkaroola and took several boxes of plants grown from seed collected in the North Flinders Ranges for planting in gardens at Arkaroola Village.

The sculpture exhibition to be held in the Garden, opens on the day of the Eremophila Festival. Sculpture locations have been chosen and it has been confirmed that sixteen sculptures will be installed. One will be made on site and will remain as a permanent display, possibly a water feature or a star gazing pit! The Eremophila Festival is shaping up to be a big event with four plant stalls, three food stalls, six art stalls and five information stalls, plus guest speakers and book releases. This combined with the sculpture exhibition opening will mean a very busy day. Hope to see you there. B Haase

BIRD OBSERVERS CLUB OF AUSTRALIA, PORT AUGUSTA GROUP - Programme 2004
Friends are welcome to participate in these activities.

Sunday 12th September 2004
Bernie's block – Meet at Mambray Creek Roadhouse – 8.00am
Sunday 17th October 2004
Port Patterson – Meet at weighbridge Highway One – 8.00am
Sunday14th November 2004
Whyalla Conservation Park – meet at turnoff to park – 7.30am
Sunday 12th December 2004
AALBG – meet in carpark – 7.30am
Sunday 14th December 2003
AALBG – meet at car park, 7.30am
(Christmas lunch after walk at Reichelt's residence, 74 Dartmouth Street, Port Augusta).
For further information contact Peter on telephone (08) 8642 5723 or Brian on (08) 8642 3314
NEWS ITEMS:
(From Shirley) New printed labels for plants propagated by Friends volunteers have been purchased. New volunteers continue to assist the propagation group and sales are increasing. Customers come from throughout northern SA and interstate. Chris Nayda has taken new tour guide Phyllis Harris on a couple of tours for training and she will soon be able to manage tours on her own. Congratulations Phyllis! The car park area at Flinders Red Cliff is looking really good at present. The whole landscape from the road across to the Gulf is bright with yellow flowers.
REMINDER: RAFFLE TICKETS.
Please return raffle books if you have them, and money to the Treasurer ASAP in time for the draw at the Eremophila Festival
MEMBERSHIP:
The committee has decided to revert to the system of making Friends membership subscription due at the beginning of the financial year (July 1st) rather than the present system which has caused confusion and has been difficult to administer. This will bring us into line with the practices of most clubs. Please direct queries to Secretary Geraldine Davis.
NEW MEMBERS:
A special welcome is extended to all recently joined members of the Friends. We look forward to your participation in our activities if distance allows!
New members: Clearly print name and address on membership application form. Some recent forms have not been legible. Please indicate if you would prefer to receive your News Release by email, as we hope to be able to do this before too long, but will of course post it in the normal way for those without email.
MEMBERSHIP CARDS:
Show your membership card in the AALBG shop for 10% discount on all purchases - including meals. Contact the Secretary if you are a financial member and do not have a card.
SHOW AND TELL: Those attending Friends meetings are invited to bring unusual or interesting plant specimens and other relevant items of interest to meetings for a show and tell segment, which we expect will be educational for us all!
Issued 16.08.2004 by John Zwar President, The Friends of the Australian And Lands Botanic Garden, Port Augusta Inc., P0 Box 2040 Port Augusta SA 5700. Ph (08) 8671 0324 ah, (08,) 8671 8558w,